Newfoundland and Labrador

topographic map

Click on the map to display elevation.
About this map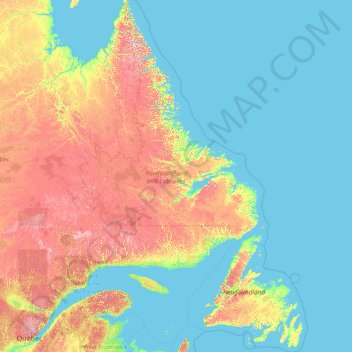 Minimum elevation: -1 m
Maximum elevation: 1,368 m
In 1496, John Cabot obtained a charter from English King Henry VII to "sail to all parts, countries and seas of the East, the West and of the North, under our banner and ensign and to set up our banner on any new-found-land" and on June 24, 1497, landed in Cape Bonavista. Historians disagree on whether Cabot landed in Nova Scotia in 1497 or in Newfoundland, or possibly Maine, if he landed at all, but the governments of Canada and the United Kingdom recognise Bonavista as being Cabot's "official" landing place. In 1499 and 1500, Portuguese mariners João Fernandes Lavrador and Pêro de Barcelos explored and mapped the coast, the former's name appearing as "Labrador" on topographical maps of the period.
Other topographic maps
Click on a map to view its topography, its elevation and its terrain.