Nose Hill Park

topographic map

Click on the map to display elevation.
About this map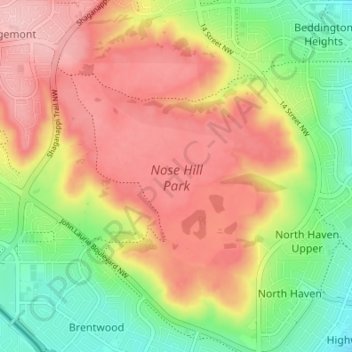 Minimum elevation: 1,094 m
Maximum elevation: 1,248 m
Names currently associated with topographical features in and near Nose Hill Park reflect the impact of the European newcomers and European trade goods on the Peigan. For example, Spy Hill, the westward extension of Nose Hill, derived its present name from the aboriginal practice of communicating with distant colleagues by flashing European trade mirrors from elevated locations. Other effects of the Europeans' arrival were more insidious. The six bison that the Methodist missionaries shot during their ill-fated hunting excursion were mere remnants of southern Alberta's once vast buffalo population. By 1879, the bison herds had vanished from Nose Hill. A new chapter of local history had begun. A fledgling Euro-Canadian community, Fort Calgary, had appeared in the valley beneath Nose Hill.
Other topographic maps
Click on a map to view its topography, its elevation and its terrain.