Washington

topographic map

Click on the map to display elevation.
About this map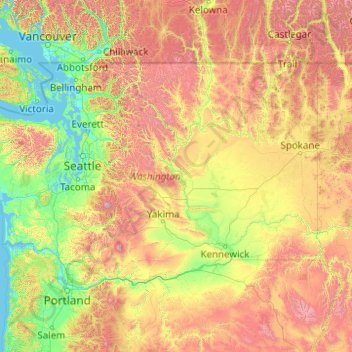 Minimum elevation: -1 m
Maximum elevation: 4,318 m
Washington is the 18th largest state, with an area of 71,362 square miles (184,827 km2), and the 13th most populous state, with more than 7.4 million people. Approximately 60 percent of Washington's residents live in the Seattle metropolitan area, the center of transportation, business, and industry along Puget Sound, an inlet of the Pacific Ocean consisting of numerous islands, deep fjords, and bays carved out by glaciers. The remainder of the state consists of deep temperate rainforests in the west; mountain ranges in the west, central, northeast, and far southeast; and a semi-arid basin region in the east, central, and south, given over to intensive agriculture. Washington is the second most populous state on the West Coast and in the Western United States, after California. Mount Rainier, an active stratovolcano, is the state's highest elevation, at almost 14,411 feet (4,392 meters), and is the most topographically prominent mountain in the contiguous U.S.
Other topographic maps
Click on a map to view its topography, its elevation and its terrain.