Bucks County

topographic map

Click on the map to display elevation.
About this map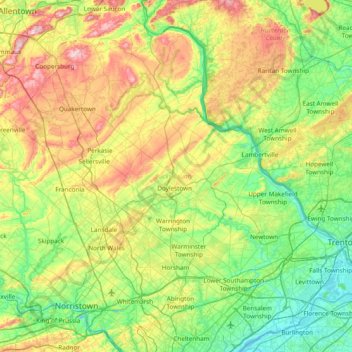 Minimum elevation: -2 m
Maximum elevation: 312 m
According to the Trewartha climate classification system, the Piedmont (United States) section of Bucks County, which is located roughly northwest of U.S. Route 1, has a Temperate Continental Climate with hot and slightly humid summers, cold winters and year-around precipitation (Dcao). Dcao climates are characterized by at least one month having an average mean temperature ≤ 32.0 °F (0 °C), four to seven months with an average mean temperature ≥ 50.0 °F (10 °C), at least one month with an average mean temperature ≥ 72.0 °F (22 °C) and no significant precipitation difference between seasons. According to the Köppen climate classification system, the climate is a hot-summer, wet all year, humid continental climate (Dfa). During the summer months in the Piedmont, episodes of extreme heat and humidity can occur with heat index values > 102 °F (39 °C). The average wettest month is July which corresponds with the annual peak in thunderstorm activity. During the winter months, episodes of extreme cold and wind can occur with wind chill values < −16 °F (−27 °C). The plant hardiness zone at Haycock Mountain, elevation 968 ft (295 m), is 6b with an average annual extreme minimum air temperature of −4.6 °F (−20 °C). The average seasonal (Nov-Apr) snowfall total is between 26 and 36 inches (66 and 91 cm) depending on elevation and distance from the Atlantic Ocean. The average snowiest month is February which correlates with the annual peak in nor'easter activity. Some areas of the Piedmont farther south and along the river below New Hope are in hardiness zone 7a, as is the Atlantic Coastal Plain region of Bucks.
Other topographic maps
Click on a map to view its topography, its elevation and its terrain.