Vancouver Island

topographic map

Click on the map to display elevation.
About this map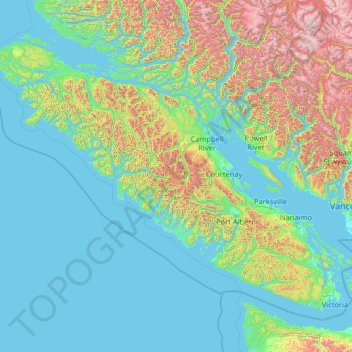 Minimum elevation: -3 m
Maximum elevation: 3,015 m
The rain shadow effect of the island's mountains, as well as the mountains of Washington's Olympic Peninsula, creates wide variation in precipitation. The west coast is considerably wetter than the east coast. Average annual precipitation ranges from 6,650 mm (262 in) at Hucuktlis Lake on the west coast (making it the wettest place in North America) to only 608 mm (23.9 in) at Victoria Gonzales, the driest recording station in the provincial capital of Victoria. Precipitation is heaviest in the autumn and winter. Snow is rare at low altitudes, but is common on the island's mountaintops in winter. Skiing is popular at Mount Washington in the mid-island, with an elevation of 1,588 m (5,210 ft).
Other topographic maps
Click on a map to view its topography, its elevation and its terrain.