Coquitlam

topographic map

Click on the map to display elevation.
About this map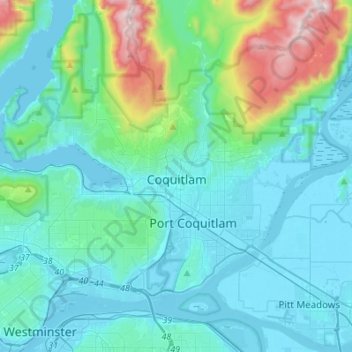 Minimum elevation: -4 m
Maximum elevation: 1,238 m
Like much of Metro Vancouver, Coquitlam has an oceanic climate (Köppen climate type Cfb), experiencing mild temperatures and high precipitation; warm, dry summers and cool, wet winters. However, compared to most other cities in the area, precipitation is especially heavy in Coquitlam due to its proximity to the mountain slopes. With westward air moving off the Pacific Ocean, the air is forced to flow up the Coast Mountains causing it to cool and condense and fall as precipitation, this process is known as orographic precipitation. The orographic effect is mainly responsible for the massive 1,969 mm (77.5 in) annual average precipitation that Coquitlam receives each year, with most falling as rainfall in the fall and winter months, with 316 mm (12.4 in) in November; the summer is usually sunny with minimal precipitation with 60.7 mm (2.39 in) in July. Although the mild temperatures allow for mostly rain to fall during the winter months, occasionally snow will fall. With a slightly higher elevation compared to the rest of Metro Vancouver, Coquitlam receives an average of 64.4 cm (25.4 in) of snow each year, with it rarely staying on the ground for a few days, adding to a very intermittent snow cover during the winter season.
Other topographic maps
Click on a map to view its topography, its elevation and its terrain.