West Tennessee

topographic map

Click on the map to display elevation.
About this map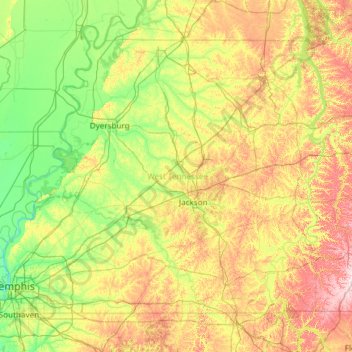 Minimum elevation: 56 m
Maximum elevation: 325 m
West Tennessee is located almost entirely within the Mississippi Embayment, part of the Gulf Coastal Plain. Because of this, the terrain is flatter than the eastern parts of the state. Areas along the Mississippi River are located within the Mississippi Alluvial Plain, which is primarily a floodplain with many swamps. However, much of the western counties of the region are protected from flooding by the Chickasaw Bluffs, ridges of loess rising 50 to 200 feet (15 to 61 m) above the floodplain. Although the land is lower and flatter than Middle and East Tennessee, some hilly terrain exists, especially along the bluffs bordering the Mississippi River and the land bordering the Tennessee River, known as the West Tennessee Highlands. Hilly land in these areas is forested. Otherwise, most of the land in West Tennessee is used as farmland. The soil in this part of the state comes from when a prehistoric sea dried up and left sediment in its place. Unlike in the rest of the state, bedrock is buried a few thousand feet below the surface. West Tennessee's highest elevation is approximately 840 feet (260 m) in Hardin County east of the Tennessee River, which is slightly lower than the state's mean elevation of 900 feet (270 m); the region's highest elevation west of the Tennessee River is approximately 740 feet (230 m) in Chester County.
Other topographic maps
Click on a map to view its topography, its elevation and its terrain.