Pemberton

topographic map

Click on the map to display elevation.
About this map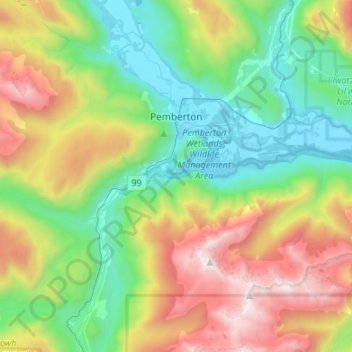 Minimum elevation: 199 m
Maximum elevation: 2,581 m
The climate of Pemberton is very warm and dry in the summer and mild and wet in the winter. Pemberton is an ecologically complex and diverse zone which is referred to as the Coast-Interior Transition zone. Moving from west to east in the direction of the prevailing winds and taking into consideration the elevation changes; it follows that there is a windward, wetter zone and a leeward drier zone and an even drier zone on the leeward side of the Lillooet Ranges and the Pacific Ranges north of the rail line. High summer temperatures and the pronounced water deficits during the growing season are the norm.
Other topographic maps
Click on a map to view its topography, its elevation and its terrain.