St. George

topographic map

Click on the map to display elevation.
About this map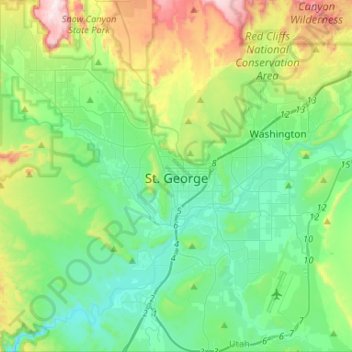 Minimum elevation: 729 m
Maximum elevation: 1,497 m
The St. George valley occasionally receives wet or slushy snowfall in the winter, but what accumulates usually melts off by the mid-to-late morning; the normal seasonal snowfall is 1.4 inches (3.6 cm). The earliest snowfall was measured on October 29, 1971, and the latest on April 11, 1927. The record single-day snowfall is 10.0 inches (25 cm) which was set on January 5, 1974. With the city having elevations ranging from 2,500 to about 3,500 feet (760 to about 1,070 m), some areas such as Diamond Valley and Winchester Hills will typically receive more snowfall and colder temperatures than the rest of the lower valley. The most recent major snow event was on December 8, 2013, when between 6.0 and 8.0 inches (15 and 20 cm) virtually shut down the city, making it the third heaviest snowfall in the city's history. Also significant about the storm was how low temperatures dropped and remained that way for several days with daytime highs failing to reach the freezing mark, and one night time low temperature of 1 °F (−17 °C), recorded at the airport, was the coldest in the city in over 100 years. The cold spell killed or severely damaged much of the area's non-native vegetation, such as the Mexican fan palm trees.
Other topographic maps
Click on a map to view its topography, its elevation and its terrain.