Laguna Beach

topographic map

Click on the map to display elevation.
About this map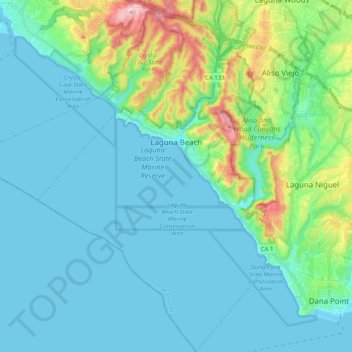 Minimum elevation: 0 m
Maximum elevation: 355 m
The land in and around Laguna Beach rises quickly from the shoreline into the hills and canyons of the San Joaquin Hills. The town's highest point, at an elevation of 1,007 feet (307 m), is Temple Hill in the Top of the World neighborhood. Because of its hilly topography and surrounding parklands, few roads run into or out of town; only the Coast Highway connecting to Newport Beach to the northwest and to Dana Point to the south, and State Route 133 crossing the hills in a northeastern direction through Laguna Canyon. Parts of Laguna Beach border the Aliso/Wood Canyons Regional Park.