Chandler

topographic map

Click on the map to display elevation.
About this map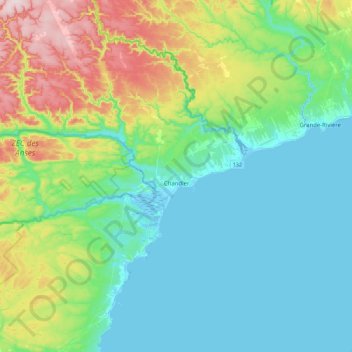 Minimum elevation: -4 m
Maximum elevation: 444 m
The area was first settled in 1729, making it one of the oldest places on the Gaspé coast. It was known over time as Paboc, Pabo, Pabok, Pabeau, and Pas-bos. In 1815, the final spelling of Pabos was assigned in the Description topographique de la province du Bas Canada (Topographical Description of the Province of Lower Canada). The meaning of this name is uncertain, although there are various theories: from the Mi'kmaq word papôg (meaning "playful waters"); a Basque name; from the Spanish pavo; a place in France, home of the first seignoral lord; or from the French words pas[sage] beau (meaning "beautiful passage").
Other topographic maps
Click on a map to view its topography, its elevation and its terrain.