Riding Mountain National Park

topographic map

Click on the map to display elevation.
About this map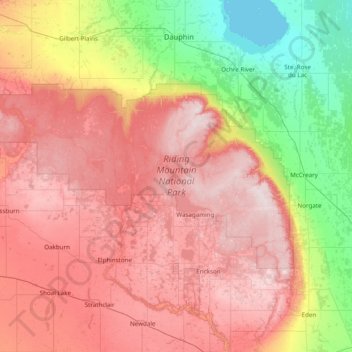 Minimum elevation: 260 m
Maximum elevation: 753 m
The climate in the Riding Mountain region is similar to that of other regions of southwestern Manitoba. Under the Köppen classification it has a continental climate. It includes grasslands, upland boreal and eastern deciduous forest ecosystems. The park has hot summers and cold winters, with annual rainfall ranging from 40.6 to 50.8 cm. Around 80 percent of rainfall occurs between the months of April and October, with June being the wettest month of the year. The increased precipitation during the summer months is due to the large number of lakes and wetlands within the region as well as turbulence caused by the surrounding Manitoba escarpment. During the winter at an elevation of about 732 meters the mean snowfall is 127 centimetres. At a lower altitude of about 335 meters the snowfall drops to 25.4 centimetres. The town site Wasagaming has an average July temperature of 16.5 °C and an average January temperature of -19.7 °C. In general there is a lower amount of humid days within the park than in the surrounding prairie region. Wasagaming has lighter winds than the rest of the park due to the surrounding forest cover.
Other topographic maps
Click on a map to view its topography, its elevation and its terrain.