Simi Valley

topographic map

Click on the map to display elevation.
About this map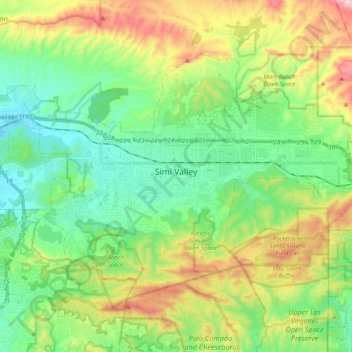 Minimum elevation: 176 m
Maximum elevation: 890 m
Simi Valley is a city located in the very southeast corner of Ventura County, bordering the San Fernando Valley in Los Angeles County, and is a part of the Greater Los Angeles Area. The city of Simi Valley basically consists of the eponymous valley itself. The city of Simi Valley borders the Santa Susana Mountains to the north, the Simi Hills to the east and south, and is adjacent to Thousand Oaks to the southwest and Moorpark to the west. Simi Valley is connected to the nearby San Fernando Valley by the Santa Susana Pass in the extreme east of Simi Valley. Simi Valley is located at 34°16'16" North, 118°44'22" West (34.271078, −118.739428) with an elevation of 700–1,000 ft (210–300 m) above sea level. The syncline Simi Valley is located in the western part of the region called the Transverse Ranges. The valley is surrounded by the Santa Susana Mountains to the north and Simi Hills to the east and south. While the Santa Susana Mountains separate the valley from the Los Padres National Forest in the north, the Simi Hills separate it from Conejo Valley in the south. In the extreme east is Rocky Peak, one of Santa Susana Mountains' highest peaks, which is a dividing line between Ventura County to the west and Los Angeles County to the east. On the other side of the valley, in the extreme west side of Simi Valley is Mount McCoy, which may be most known for its 12 ft. concrete cross that sits at its peak. The physiographical valley is a structural as well as a topographic depression. The Simi Valley, just as neighboring San Fernando Valley, owes its existence and shape to the faulting and folding of the rocks. It is essentially a structural valley and not wholly the work of erosion. It is drained by the Calleguas Creek and also its principal tributary, Conejo Creek. Both of these originate in the Santa Susana Mountains.
Other topographic maps
Click on a map to view its topography, its elevation and its terrain.