Mount Robson

topographic map

Click on the map to display elevation.
About this map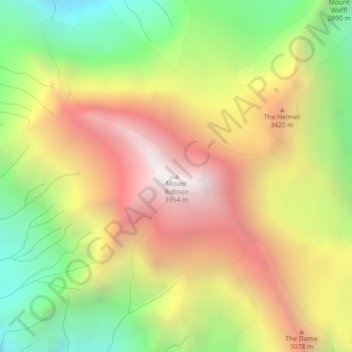 Minimum elevation: 2,174 m
Maximum elevation: 3,926 m
The north face can be seen from Berg Lake, and reached by a 19 km (11.8 mi) hike. The lake is approximately 2 km long and lies at 1,646 m (5,400 ft) elevation. There are backcountry campgrounds at each end of the lake and a log shelter on its banks, named Hargreaves Shelter in honor of the Hargreaves family who operated the Mount Robson Ranch across the Fraser River from the mountain and who outfitted most of the early trips into Berg Lake. The Berg Glacier calves directly into the lake. The Robson Glacier, which fills the cirque and valley between Mount Robson and Mount Resplendent, in the early 1900s fed directly into both Berg lake and Adolphus Lake, straddling the Continental Divide and draining thus to both the Arctic and Pacific oceans via the Smoky and Robson Rivers, respectively. It since has receded more than 2 kilometres and is the source of the Robson River only. The peak of Mount Robson has a tundra climate (ET).
Other topographic maps
Click on a map to view its topography, its elevation and its terrain.