Cleveland

topographic map

Click on the map to display elevation.
About this map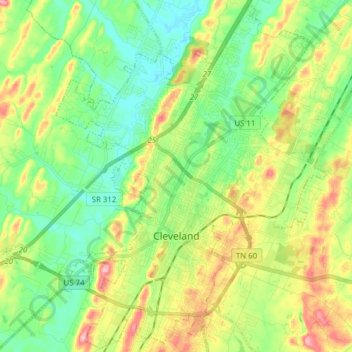 Minimum elevation: 212 m
Maximum elevation: 355 m
The area's terrain is made up of parallel ridges, including Candies Creek Ridge (also called Clingan Ridge), Mouse Creek/Lead Mine Ridge, and Blue Springs Ridge, which are extensions of the Appalachian Mountains (specifically part of the Ridge-and-Valley Appalachians) that run approximately north-northeast through the area. Mouse Creek and Blue Springs Ridge have significantly lower elevations within the city of Cleveland than elsewhere in Bradley County, which historically made the area easier to settle. Several streams run in the valleys between the ridges including Candies Creek, located west of Clingan Ridge, and South Mouse Creek, between Mouse Creek and Lead Mine Ridge. Elevations in the city range from just under 700 feet (210 m) to nearly 1,200 feet (370 m). The Tennessee Valley Divide, the boundary of the Tennessee Valley and Mobile River drainage basins, is located on the southern and eastern fringes of the city, and has prevented the city limits from expanding beyond this point in most locations.