Belvédère de Tequenonday

topographic map

Click on the map to display elevation.
About this map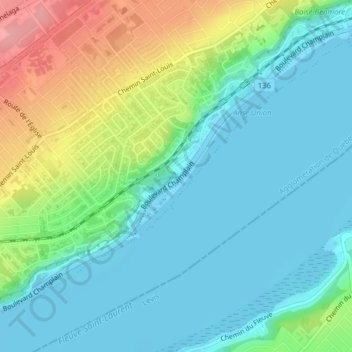 Name: Belvédère de Tequenonday topographic map, elevation, terrain.
Location: Belvédère de Tequenonday, Boulevard Champlain, Sillery, Sainte-Foy–Sillery–Cap-Rouge, Quebec, Urban agglomeration of Québec, Capitale-Nationale, Quebec, G1T 1R5, Canada (46.75973 -71.26753 46.75983 -71.26743)
Average elevation: 30 m
Minimum elevation: -4 m
Maximum elevation: 106 m
Other topographic maps
Click on a map to view its topography, its elevation and its terrain.

Canada > Quebec > Urban agglomeration of Québec > Quebec
Fontaine de Tourny, Vieux-Québec–Cap-Blanc–Colline-Parlementaire, La Cité-Limoilou, Quebec, Urban agglomeration of Québec, Capitale-Nationale, Quebec, Canada
Average elevation: 32 m